This cute and cuddly plush toy has become a favorite among children and parents alike. Apart from having the cutest little face, here are the top 3 features of My Little Lamb. We've also added testimonies from you – our valued customers.
1. Kids stay engaged with the Good News
This Christian soft toy shares God's timeless truth with children for hours. With 79 Psalms, 3 books of the Bible, 4 songs and 10 OT stories, children can stay engaged with uplifting content every day. Truly a wonderful alternative to screen time!
Renee: "I was astounded at my granddaughter's happiness with her little "Lambie" as she stared at it as she held it. She then rocked it like a baby for the longest time. The sound is great with a volume control and will enhance her listening skills and love of songs and Scripture during her afternoon quiet time. Love it!"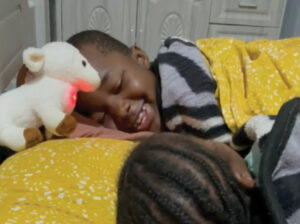 As children listen to Scripture their anxiety is lessened, making My Little Lamb the best bedtime buddy. Many parents have shared testimonies of how this cuddly toy comforts their children and helps them to sleep better. Here is Amanda's testimony:
"I bought this for my 8 year old who was having nightmares… but my 6 year old has taken more of a liking for it (and with my 8 year old the nightmares had subsided anyway). She sleeps with it every night and I know it's helping her fall asleep faster. She's my night owl and would have the hardest time going to bed, but she turns it on and just loves to listen to it and unbeknownst to her, falls asleep!"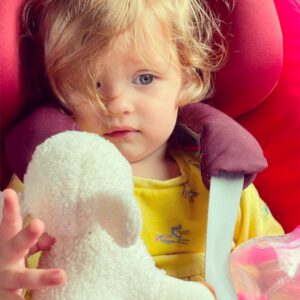 3. MLL is the ideal travel companion
At 8.3"x 7.1"x 5.7" this cute plush fits easily in your child's backpack and is the perfect size for little hands to hold. If you are getting ready for a journey, charge My Little Lamb, slip it into your luggage and when Junior gets tired of playing 'I spy', the lamb's audio can be switched on for the whole family to enjoy.
Lara: "We bought this for our little guy when going on our trip cross country. This helped him through the roughest of times, driving in the car overnight. He loves Jesus and couldn't fall asleep without me saying Scripture, so this is wonderful."
David: "My kids love this little lamb! They love to carry him around and listen to the songs and Bible stories. Its small size makes it perfect for traveling!"
My Little Lamb comforts little ones with God's Word … in more ways than one.